Home
Welcome to the World of Eirinth!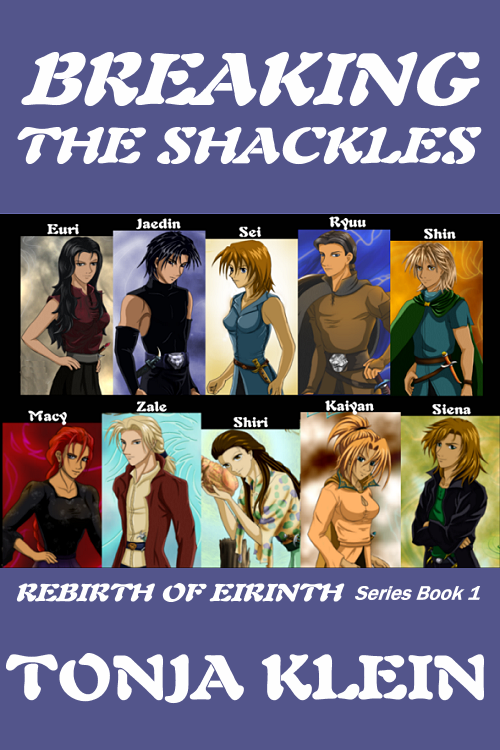 This original novel has been submitted for the usual

traditional publication and other options as the first

of an original Fantasy series created for over more

than five years as of 2013 by Tonja Klein.

This story takes place in a parallel world to Earth that

is called Eirinth. This story has the fighting of mortals

wielding Earth-like elements that are called Wind, Fire,

Wave, and Geo that exist as distinct entities of molecules

to help all Kouken-born mortals to fight against demons

of the evil realm of Naraku. Each elemental entity chooses

its Kouken wielder by the Divine Purpose of the Creator -

the Father of Lights.

Energy wielders known as Bengosha are called by

dreams and given energy-matter gifts. Bengosha

are led to accept four pledges from Kouken - one

from each element to form fighting groups to cast

out demons to help suffering mortals. This novel

has a traditional Fantasy world like one with the
background of the Dark Ages of Earth.

The one true faith of Eirinth is in Tenrai Daystar, the

mortal form of the Father of Lights, and is challenged

by demons and even captive-minded mortals.

ALL site text, draft previews, and original songs by

the writer who's composer, singer, and songwriter

Tonja Klein©2009-2013; Eirinth individual artwork
was commissioned by Tonja Klein from her friend

and freelance artist "t-shirt" of Art by Imagination.

All individual character artwork was purchased by

Tonja Klein©2009-12. Proposed Book Cover was
created by Tonja Klein©2012-13.
Links are at the top of every page for book drafts

and a Migoto map created by Tonja Klein. Please

give constructive criticism, feedback, or ask your
questions by messaging TK on Facebook under

Tonja Klein or the new FB page for eirinth.com!
Additional link on every page for the artwork main

page with links to the 25 individual character pages

with stats. Other site pages are about this world of
Eirinth that is a parallel dimensional world to Earth.

Scroll down for links to promo merchandise and the
Eirinth Youtube Video below...
http://cafepress.com/EirinthShirtsEtc !!!
by t-shirt / Original Project Song by Tonja Klein.
This is a love song in the book sung by Ryuu to

Macy - sung in promo by author Tonja Klein and
the keyboard by record Producer Ron Short for
NGS Media Group/Diamond Mill Records who is

celebrating music artist Tim Livingston for his

winning the ICGMA for "Songwriter of the Year"
in 2012 and "Horizon Male Vocalist of the Year"
in 2013. Ron is excited to be involved with this
Eirinth project as promotion for his friend TK!
Pastor Tim was the inspiration for the Eirinth
character of Pateren Wendell Masterson!

THANKS FOR VISITING AND COME BACK SOON!
(Seekers of Eirinth)