Below is the online version of proposed book cover with added safety text for the first novel in the Rebirth of Eirinth Series, the Fantasy novel BREAKING THE SHACKLES by this project creator Tonja Klein. All artwork commissioned by Tonja Klein and created visually by freelance graphic artist "t0shirt" and noted as "t-shirt" on designs for promotional merchandise available on Cafe Press. ALL artwork owned and edited by Tonja Klein(c)2009-2014.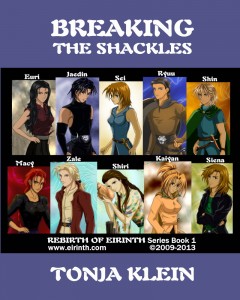 This site was down due to a PHP change but is now up with all the main information restored as of 02/23/14. Music page now up with previously listed inspirational music for TK while writing book and creating project. Three original songs partially used in book will be professionally recorded with NGS Media Group Record Producer Ron Short for Diamond Mill Records with Tonja Klein soon.

Please leave any valid comments in the area below on any page. These pages are being monitored and NO spam messages will be approved so CEASE AND DESIST ALL MARKETING "comments"!

Please scroll down to see the latest reply by TK about the current status of this website's project. It will be updated systematically from time to time so check back soon!

To visitors: "May Tenrai Daystar shine down on you with blessings beyond sublime dreams!" Eirinth Blessing by Tonja Klein(c)2012.
*** ALL RIGHTS RESERVED BY TONJA KLEIN(c)2009-14 ***